BRI in Civil Society Dialogue
Introduction
This project invites civil society organisations from China, Southeast Asia and Europe to enter a dialogue on the environmental and social implications of the Belt and Road Initiative. It is aimed at enabling spaces of exchange and learning for civil society organisations and at improving the sustainability of Belt and Road Initiative investments together with stakeholders involved.
Civil society dialogue across cultural and political borders improves organisational capacities, cooperation potentials and action-oriented research towards the common goal of sustainability. The project offers a threefold exchange experience with a workshop in China, a fieldwork period in Southeast Asia and a conference in Europe. Moreover, it gives civil society organisations the opportunity to develop their global strategy for a rising China and to strengthen their voices on a global governance level.
Logo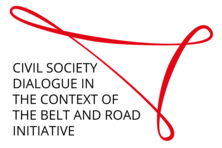 The logo depicts a gordian knot. It represents the difficulty of promoting civil society dialogue across political systems. Through the methodology proposed in this project, we seek to create a framework that enables spaces for civil society dialogue in the context of the Belt and Road Initiative. The logo comprises three loops. They stand for Europe, China and Southeast Asia.
Goals
The China Programme of Stiftung Asienhaus seeks to contribute to the promotion of Chinese, European and local civil society participation in BRI projects in Southeast Asia.
The project goals are as follows: 1) The capacities of Chinese, European and Southeast Asian civil society organisations concerning their internationalisation and cooperative abilities are improved. 2) International cooperation, exchange and changes in perspective between civil society organisations from China, Europe and Southeast Asia about BRI projects take place. Civil society perspectives are visible in the development policy discourse on the BRI.
In this sense, the China Programme would like to contribute to the UN Sustainable Development Goal (SDG) 17 'Partnerships for the Goals'. From a cross-sectional perspective, the project also touches upon SDGs 5, 6, 7, 9, 11, 13 and 16.
Resources
We plan to provide a list of key resources on the BRI and civil society participation in the near future. More coming soon.
Milestones
1 May 2020: Project launch
16 September 2020: Co-funding approved by the Ford Foundation
17 September 2020: Advisory Board launch
14 January 2021: Project duration extended by Bread for the World
Advisory board
Matt Ferchen is the Head of Global China Research at the Mercator Institute for China Studies (MERICS). He is also a lecturer in the School of Asian Studies at Leiden University and a Research Fellow with the Leiden Asia Centre. Ferchen lived in China from 2000-2017 first as a PhD student researching the governance of China's informal economy and later as a faculty member in the Department of International Relations at Tsinghua University. From 2011-2019 Ferchen was also a scholar at the Carnegie-Tsinghua Center for Global Policy where he ran the China and Developing World program. In recent years he has worked with organizations like the Ford Foundation and the American Friends Service Committee to build links between academic researchers and civil society organizations in Southeast Asia, Latin America and China, as well as in the United States and Europe, to build developing country capacity to better understand and manage growing interdependence with China.
Rachmi Hertanti has a strong educational background in the field of law. In 2012, she obtained a master's degree in International Trade Law from the University of Indonesia. Since 2011, she has been actively working in a non-governmental organization called Indonesia for Global Justice (IGJ) who raises critical issues around international trade and investment agreements. The work experience in IGJ has strengthened Rachmi Hertantis expertise on this issue, and it has brought her to become one of the panelists in the presidential candidate's debate in the 2019 Presidential Elections of Republic Indonesia. For 11 years working at IGJ, she has been involving in the process of Policy Advocacy at the national and international levels, including encouraging several initiatives with civil society groups in Indonesia and internationally related to the alternative system on globalization and free trade agenda.
Yuka Kobayashi (LL.B Kyoto, MPhil, DPhil Oxon) is Lecturer/Assistant Professor in China and International Politics at SOAS, University of London, and Visiting Research Professor at Nankai University (China) and Visiting Scholar at the World Trade Organization (WTO). Prior to joining SOAS, she was a Junior Research Fellow at the University of Oxford. After receiving a LL.B. (specialisation in Public International Law) from Kyoto University, she studied Mandarin and Chinese International Politics at Nankai University and then obtained her M.Phil. and D.Phil. at the University of Oxford. Her research interests include International Relations of China, International Law, Trade and Investment (Belt and Road Initiative/WTO/FDI), Human Rights and Climate Change/Energy. She has advised various governments, think tanks and international organisations on these subjects.
Shawn Shieh has 15 years of experience working to strengthen civil society and social movements in China and the Asia-Pacific. His current interest is in exploring strategies and models for sustaining civil society and movements in closed spaces such as China, and helping civil society respond to China's growing global influence. In 2018, he founded Social Innovations Advisory, Ltd., a consultancy helping NGOs build a resilient civil society in China and Asia. Previously, he was the Deputy Director of China Labour Bulletin in Hong Kong, and founded and directed the English-language operations for China Development Brief, China's only bilingual NGO platform covering civil society and philanthropy. He is a Research Associate at the Overseas Development Institute, a Research Fellow at the Chinese University of Hong Kong, a Rights CoLab Contributor, a member of the Governance Circle of Innovation for Change-East Asia, and a long-time consultant for the International Center for Not-for-Profit Law. Shawn received his Ph.D. in political science from Columbia University and was a professor of political science at Marist College from 1995-2009. He has written and published extensively on China's civil society and has maintained a blog on NGOs in China since 2009.
Katherine Wilhelm, executive director of the U.S.-Asia Law Institute at New York University School of Law, is an expert on China's legal system, public interest law organizations and civil society. She joined USALI in August 2019 after returning from nearly three decades of residence in Asia, where she split her career between law and journalism. Most recently, she was the legal program officer at the Ford Foundation's China office, where she funded Chinese legal advocacy NGOs and university-based legal research and education programs. Before that, she directed the Beijing office of Yale Law School's China Law Center, which implements law reform projects in partnership with government, academia and civil society. Areas of focus included juvenile justice, criminal procedure, women's rights, media law, and government information disclosure. Before beginning her career in law, she was a journalist. She reported for The Associated Press from Beijing, Hong Kong, and Hanoi, and for the Far Eastern Economic Review from Hong Kong and Shanghai. Her work has been published in leading newspapers around the world.
Zhao Zhong is the founder and board director of Green Camel Bell, a grass-root environmental NGOs in Northwest China. Green Camel Bell was the first environmental NGO in Gansu Province and pioneered the use of China's information disclosure laws to hold polluters accountable. Besides that, he and his colleagues conducted a range of programs and projects focusing on environmental education, water pollution monitoring, eco-agriculture and grassland conservation. In 2009, Zhong was named a "Hero of the Environment" by Time magazine. He received his Bachelor's degree in Electronic and Information Engineering from Hefei University of Technology and Master degree of Laws from the University of Hong Kong.
Profiles of other advisory board members will be online soon.
Partners



Funding
The project is funded under the title "Förderung des zivilgesellschaftlichen Dialogs im Umfeld der chinesischen Seidenstraßeninitiative", engl. "Promoting civil society dialogue in the context of the Belt and road Initiative", reference number N-ASL-2020-5123, by Bread for the World (May 2020 to April 2022, extended to October 2022) and under the grant number 138445 by the Ford Foundation (November 2020 to October 2021).