15.10.2018
Report: Labour Movement and Democracy in Thailand
Somyot was arrested in late April 2011 and sentenced to ten years in jail in January 2013. He was found guilty of violating Section 112 of the Thai Criminal Code, also known as the lèse-majesté law, by publishing two articles that were deemed insulting to the royal family. However, he was not the writer of these articles. This verdict drew harsh reactions from the international community, especially from labour unions and human rights organisations. In the end, Somyot´s penalty was reduced, and he was finally released on the 30th of April 2018. The seven-year-long detention, however, left its mark on him.
"I have lost my life for 7 years", he confessed
Freelance journalist and Southeast Asian specialist Nicola Glass moderated this panel discussion, guiding the speaker and involving the public. After a short presentation of his activities as trade unionist, political activist and journalist, Somyot drew up a portrait of the labour movement in Thailand and the evolution of workers conditions.
The country has a long history of a labour movement, and has seen mass demonstrations against various military dictatorships and against brutal, notorious army generals by people from all walks of life, such as the popular uprisings in 1973 or 1992. Rising up against authoritarianism and injustice, cost many lives, since numerous demonstrators were murdered over the last decades. Tragic events have occurred, once again, in April and May 2010, four years before the latest coup, when the Thai army cracked down on the mass demonstrations of the Red Shirts who were calling for the dissolution of parliament and fresh elections. According to official figures, some 100 people were killed in the streets of Bangkok at that time.
To a certain extent, Thailand has experienced times of democratic rule. However, series of military coup d'états repeatedly destroyed democratic structures. During several periods of authoritarian rule, the labour movement was tried to be weaken. The Thai government is not trying to protect its workers, but instead willing to keep its population away from being involved in political and economic decision-making processes.
38 Million workers in Thailand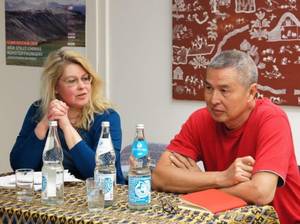 Nowadays, there are around 38 Million workers in Thailand, from which 55 percent work in a non-formal sector (means they have no protection). Moreover, even if around one thousand trade unions do exist, only very few are unionized. In addition to demands of pay rise, the fight for better working conditions include different domains like welfare, security of work, and quality of life.
When Somyot was asked about his view on the political situation in Thailand, he was not very optimistic for the future. However, he is hoping for a collapsing of the system from inside, which might emerge from an initiative by the people.
As elections are supposed to be held on 24 February 2019, one could argue it might be an opportunity for the re-establishment of democracy. Rather than sharing this point of view, Somyot expressed his skepticism. Indeed, he does not see either the elections, controlled by the military, nor the labour movement as tools for democracy.


"It is not elections but international solidarity, which will bring democracy in our country"
Solidarity. Somyot sticks to that word. Convinced that being an internationally known labour activist has helped to get him a better treatment while in prison, he is aware that he has to continue to spread a message of freedom and not to forget the hundreds of Thai political prisoners behind bars.


International pressure will have an impact on Thailand's political situation

During his tour throughout Europe, he also tried to keep this hope. In his view, it is a step-by-step process, and the more people are informed of the situation, the more the international pressure will have impact on Thailand's political future.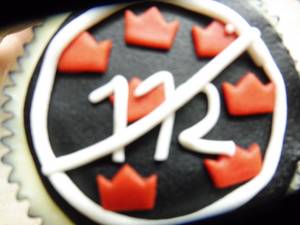 Nathalie Jobert
Schlagworte:
Wahlen, Menschenrechtsverletzung, Rechte, Demokratie, Thailand